DESCRIPTION
Free next delivery
Brand LED Hydroponic LTD
Skyline 800 LED grow lights Equivalent to or better than 800w HPS.
Full-spectrum LED grow lights from seed to harvest with passive cooling making them 100% silent
INTRODUCING  THE ALL-NEW Skyline 800w led grow lights SILENT & POWERFUL. WATERPROOF & MODULAR. BUILT TO LAST THE WARS.
The Skyline 800 grow lights are the latest development from LEDHydroponics.co.uk with passive cooling Bringing together the best in high-tech materials and CREE and SAMSUNG LED chips to deliver a new range of modular LED grow light systems.  These units are a step change when it comes to build quality and real-world performance.
Best hanging heights for skyline
Vegetative stage: 24 to 30 inches (60 to 76cm)
Flowering stage: 14 to 20 inches (35.5 to 50.8cm)
The flowering footprint is 4x4ft to 5x5ft ( 1.2×1.2 to 1.5 to 1.5m)
Free UK Delivery 

High PPF of 1670 µmol/s and Photon Efficacy 2.7 µmol/J.

Hanging bracket & Power Lead 

5 Years Total Peace of mind Warranty

5 years Technical / after-sales support

From a UK based Company – no long waits for units/parts or repairs

Instant Communication at all times.
The series is based around a modular LED unit which is fitted with CREE's powerful Cree® J Series™ 3030 LEDs series   This unit is fan-less, and IP65 rated.  Each module has a blend of LED types (CREE and SAMSUNG chips ) to create a powerful spectrum that at the bottom-line does wonders in the grow room. At the core : 
Each version of the Skyline led grow lights uses a different arrangement of the 100W modules. The design uses high quality LED driver units, and all wiring and connectors are sealed and even water-tight.
 Key Features Skyline 800 led grow lights
1. Advanced Aluminium-Fin heatsink, providing cooling without needing noisy fault prone fans.
2. White – Light.
Our blend appears visually primarily white due to the balance of the output spectrum,
which both the plants and growers both LOVE.
3. The modular structure is industrial grade and highly serviceable and upgradeable.
4. Heavy-duty adjustable bracket allowing flexibility of wall mounting as well as hanging.
5. Unique design using removable power supply and light source
6. Supplied with a generous 5M cable and mains plug.
7. Weight 12KG
8. Only using 400w power
Mounting System Skyline 800 grow lights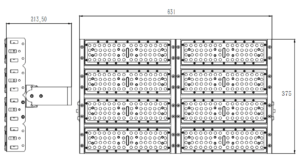 The Skyline includes a heavy-duty bracket built into the side of the unit.  This allows the unit to be wall-mounted very securely.
The bracket can be adjusted into one of three different fixed locations to allow side or tilt mounting.
Performance
Very quickly rising to the top of our hot list, the Skyline is a massive performer.  The combination of stealth-bomber looks and large surface area of powerful LED point sources set the scene and follow up with explosive results in the growing phase, huge flowering and unbelievable yields of rock solid sticky buds.  With the high yielding varieties or anything for that matter, this lamp can really drive them beyond expectation.
Real-world results are important to us, and this lamp definitely is a massive move in the right direction.  But of course, we've also put the final setup through the usual barrage of tests to characterise its performance and give you the figures you'll want to know.
Skyline 800w led grow lights
PPF is photosynthetic photon flux measures the total amount of PAR that is produced by a lighting system each second. This measurement is taken using a specialized instrument called an integrating sphere that captures and measures essentially all photons emitted by a lighting system. The unit used to express PPF is micromoles per second (μmol/s). This is probably the second most important way of measuring a horticulture lighting system, but, for whatever reason, most lighting companies don't list this metric. It is important to note that PPF does not tell you how much of the measured light actually lands on the plants, but is an important metric if you want to calculate how efficient a lighting system is at creating PAR. if you are interest than please contact us !