DESCRIPTION Skysaber –
Skysaber 720w PRO MK2 LED grow lights
It's the stuff plants dream of…
Introducing the cutting edge of LED grows lighting –  the Skysaber.
Full-spectrum LED grow lights from seed to harvest with passive cooling making them 100% silent
Featuring 720W of both CREE and SAMSUNG chips (LM281BA +CRI90), these LED's work in total and utter harmony when coupled with the U.L Meanwell drivers on board. The design of the Skysaber is optimized for grow spaces ranging from 1.2m x 1.2m up to 1.5m x 1.5m.
PPFD Efficiency  2.9μmol/J PPF: 2124 µmol/s
Specification
box size 106*56*17cm, Gross weight. 20k
Net weight. 17.2kg
Size 998 x 928  Actual Power 720W± 5%
Input Voltage AC110V and 220V
Lifespan 50000h Output current 2.4A
Working Environment 45%~90%RH -20~40℃ Working Frequency 50~60Hz
Color 380nm-730nm Skysaber LED grow lights
Best hanging heights for skysaber
Vegetative stage: 24 to 30 inches (60 to 76cm)
Flowering stage: 14 to 20 inches (35.5 to 50.8cm)
Free NEXT DAY UK Delivery

Hanging kit & Power Lead 

5 Years Total Peace of mind Warranty

5  years Technical / after-sales support


From a UK based Company – no long waits for units/parts or repairs

Instant Communication at all times.

Dimmable
Skysaber 720w LED grow lights Equivalent to or better than 1400w HPS.
Dimmable led grow lights
The Skysaber are put under extensive testing. They are tested for weeks on end, up to 24 hours a day, to ensure consistent and reliable performance during your grow.
We focussed on our customer feedback and admiration of the build quality in the Skyline, so with Skysaber led grow lights, we've made sure the assembly is both innovative and extremely high quality throughout.
The robust ventilated centre column acts as the backbone, housing multiple Meanwell Drivers with connectors close to each LED bar. It also features nuts and bolts to connect the LED bars.
This means you can assemble in place – put the centre unit in its perfect spot using the hanging kit, then quickly attach and connect the individual LED bar elements which of course feature quality Samsung and Cree LEDs.
The result is quite awesome to behold.
From a relatively small package unfolds a beast of an LED grow light, able to cover a large area with a highly intense light that is spread evenly over that area.
Skysaber 840w led grow lights 60 days super lemon haze from ethos genetics & banana candy krush
4.2kg dry Stardawg AKA Stardog & Skysaber 720w x 4 led grow lights
ASSEMBLY INSTRUCTIONS:
       It's the stuff plants dream of!
We've advanced the modular concept massively on this one, you'll find this is very easy to transport, handle, get attached on a hanging kit and assemble in place.
Being modular of course results in greatly improved user serviceability and also ensures that even if an LED bar were to fail, you won't lose the entire output from the other bars.
Dimmable


IN THE BOX:
Power unit
X7 full-spectrum Sabres
Power cable
Brand LED Hydroponic LTD
PROCEED TO GROW SOME MONSTERS!!!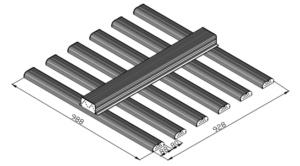 Spectrum Chart
MISUSE OF DRUGS ACT 1971
By section 6 of the Misuse of Drugs Act 1971, it is an offence to cultivate any plant of the genus Cannabis in the United Kingdom without a license from the Secretary of State. Anyone committing an offence contrary to this section may be imprisoned or fined, or both. Visitors to this website are advised against breaking the law.
if you are more details please contract us!